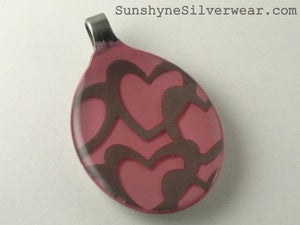 Spoonful of Love
$

15.00 - On Sale
Need a way to show someone just how much you care? How about a spoonful of love!
Floating over the hand painted pink background is a lovely image of hearts, forever linked together. The hearts cast a shadow over the background giving a three dimensional feel. A generous coat of resin protects the artwork and gives a lustrous, glossy look.
A complimentary 18 inch cotton and ribbon necklace comes with this piece, free of charge.
Shipping to
Alone
With Others
Canada

$

3.50

$

1.50
United States

$

2.50

$

1.00
Everywhere else

$

4.00

$

2.00