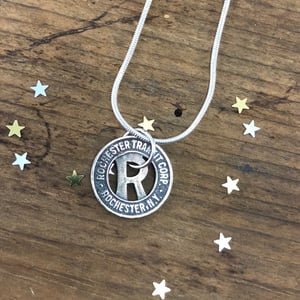 Rochester Transit Token
$

25.00
This simple, yet elegant necklace is made from an authentic Rochester transit token. These tokens have become extremely rare and have been known to sell for upwards of $50 each on exonumia collector's sites.
The silver toned token was first issued by Rochester Transit Corporation in 1948 and were sold 11 for 50¢. (A city bus ride today costs $1 every time you get on a bus, including "transfers") These tokens were good for one city fare on all bus and trolley lines (including the Rochester Subway). They are 16mm in diameter, white metal, copper-plated
The larger bronze one is a Rochester railway token (1909-1931)
Substitute for One Cash Fare on all Rochester City Lines (including the Rochester Subway). First issued 1909. They are a little larger than the silver colored ones. These measure in at 23mm in diameter.
If you would prefer a hole not be drilled into the *silver colored* token, please leave a note at check-out and I will comply.
*Looking for 10 or more? When I have enough in stock, I'm happy to give discounts on large orders. Message me and we can work it out.
Shipping to
Alone
With Others
United States

$

3.65

$

1.25
Everywhere else

$

8.00

$

3.00